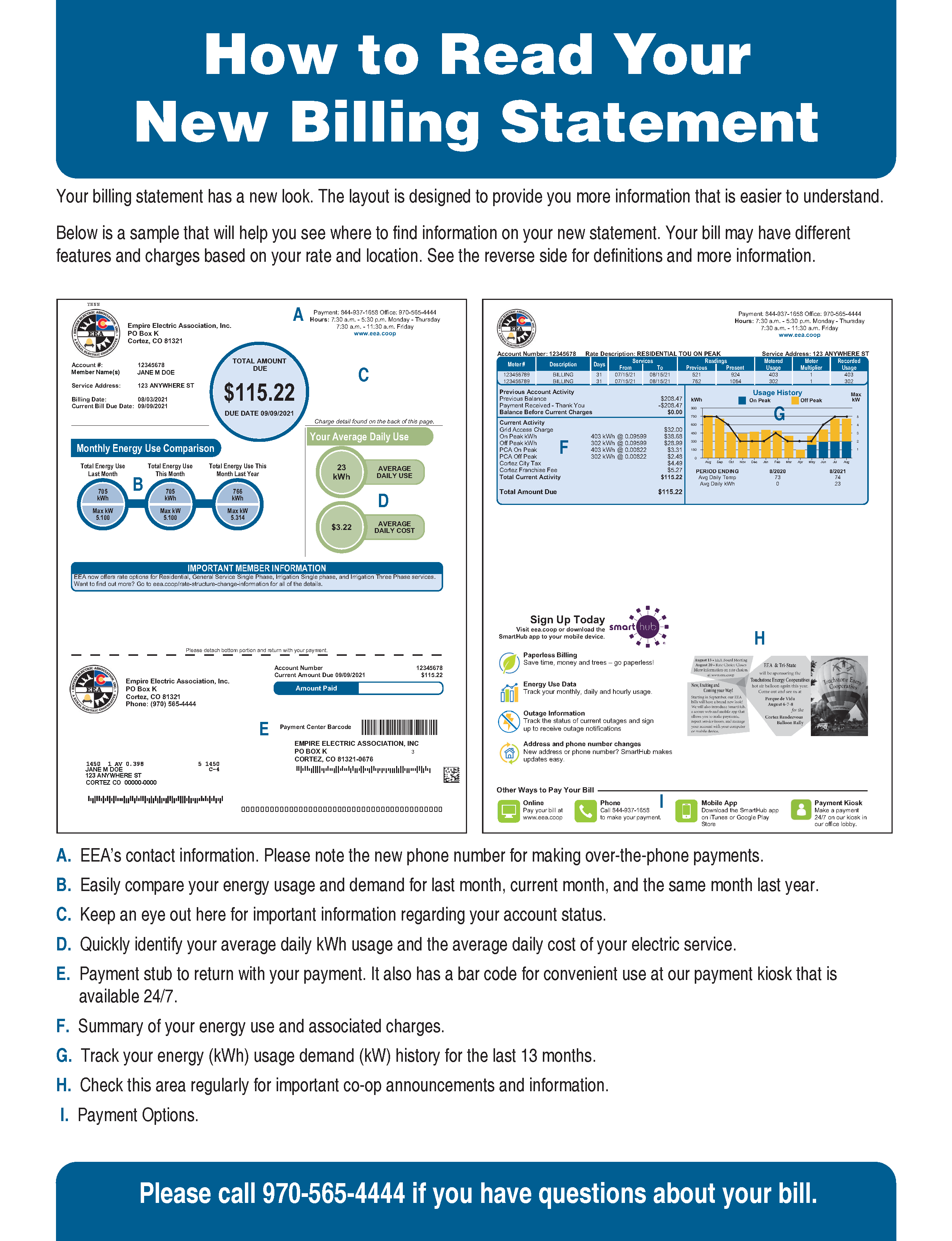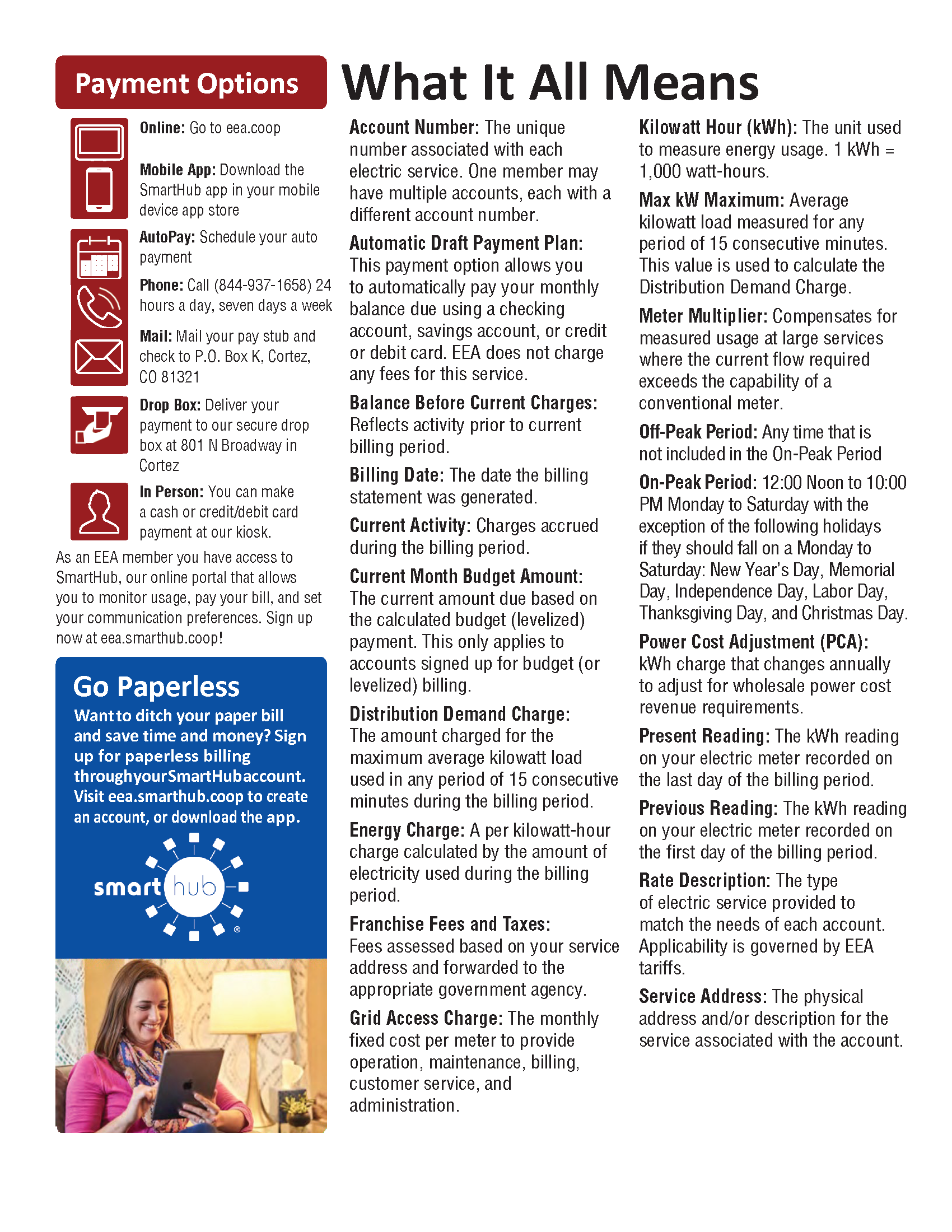 Billing Policy - Empire exercises all reasonable means to ensure accurate computation of all electric bills. When a billing error occurs, Empire promptly refunds any overcharged amounts and has the right to collect for any undercharged amounts. If a consumer notifies Empire before a payment is due that the correctness of the bill is disputed and why, Empire will promptly investigate the complaint. However, a bill dispute is not a sufficient reason for withholding payment. If the dispute is not settled by Management, the Consumer may pursue a resolution before the Board of Directors by following the procedures for such disputes. 
Payment Policy
Customers are billed monthly using a cycle billing system. The bill is payable upon receipt and is due on the date printed on the bill.  
Late Payment Charges
Bills are considered late and charged a late fee if not paid by the billing statement due date. A courtesy call is generated by our automated calling system to remind consumers their bill is getting close to being late and a late fee will be charged if the bill is not paid by the due date. The charge is added to the account and will reflect on the next month's bill.
EEA notifies members of pending disconnects on their bill statement messaging. If the account remains delinquent, a second courtesy call is generated the day prior to a scheduled disconnect.  It is very important to update your account contact information with a current phone number to ensure you receive an automated call.  To restore service following a disconnect for non-payment, the following charges must be paid in full: the total bill amount and any other related charges, a $20.00 connect fee (if connected during business hours) or a $45.00 connect fee (if connected after business hours, week-ends or holidays).
Connect Fees for Residential and Commercial Accounts
Connect fees are charged to help recover costs of new account setup, labor charges, mileage, etc.
Services connected during normal working hours are charged a $20.00 fee.
Services connected after normal working hours, on weekends, or holidays are charged a $45.00 fee.​
Insufficient Check - Customer must pay the check amount plus an additional $20.00 charge either in cash or with a money order.
Billing Deposits for Residential and Commercial Accounts
RESIDENTIAL
$150.00 deposit for gas/electric
$375.00 deposit for all-electric
A qualifying credit check is required for first time residential accounts. Empire will make the determination about deposit requirements after the credit check is completed. This process does not add points to a person's credit score.  A deposit is refundable after a 12-month credit history is established.
Additional Billing Deposits are required if an account becomes delinquent two times within a 12-month period.
COMMERCIAL - Please call 970-565-4444 or 800-709-3726 for details on setting up a commercial account. Commercial accounts must submit Articles of Incorporation or Articles of Organization and a tax payer ID form (IRS Form W-9) before service can be connected. If your account is tax exempt you must provide documentation from the state you operate in of your tax exempt status. Contact EEA for questions.
A Bank Letter of Credit can be submitted on EEA's formatted letter in lieu of a deposit.
A Commercial/Large Power deposit is based on a three-month estimated billing.
Additional Billing Deposits are required if an account becomes delinquent two times within a 12-month period. 
Residential Forms
The following identification is required to meet federal guidelines in the 2003 Federal Accurate Credit Transactions Red Flag Rules concerning identity theft:
Social Security Number
U.S. Government Issued Photo Identification (Driver's License, Passport, or State ID Card)
Forms Required For Service Connects:
Membership Form
Consumer Information Sheet
Rental/Lease Agreement for Residential Accounts: A Rental/Lease Agreement is required before service can be connected and must be dated and signed within 60 days of the request for service
Available on Request:
Empire Electric Association, Inc. By-Laws — Articles of Incorporation
Monthly Automatic Payment Options 
Bank Draft or Credit Card Draft Applications 
Landlord Accounts: Automatic Connect Forms are available for landlords to set an account when a renter moves out.
Meter Accuracy and Testing
An electric meter is a very accurate recording instrument that measures use of kilowatt hours. Meters are tested before being installed and then tested on a rotating basis to insure accuracy. 
If a customer believes there is a problem with their meter, the Cooperative will test the meter for accuracy. There is no charge for the first test. A service charge of $20.00 is required to conduct a second test within the twelve month period following the first test. If meter accuracy is found to be off by over 2 percent either way, the billing will be adjusted accordingly.
Meter Reading
EEA continues to use qualified metermen to inspect and/or test the meter installations and complete safety inspections.
Empire uses advanced metering infrastructure (AMI). These meters help the co-op identify the location of outages and respond more rapidly to restore power and provide members more information.  EEA recommends that members continue to call in to report outages, to ensure that the systems are working properly. 
AMI technology enables two-way communication between utilities and customers and results in daily reading and near instantaneous reads on demand. AMI uses radio frequency equipment to transmit the meter readings to a network of communication devices that store meter data on an internet connected server. The meter data is transferred to a Meter Data Management System for billing and reporting processes. On-site periodic inspection and/or testing of the meter installation and safety inspection will be completed by EEA employees. The AMR system has reduced expenses and provides timely, useful information to EEA members as well as co-op employees.
Estimated Bills
In the rare case EEA is not able to get a monthly meter reading, the bill will be estimated. Upon receipt of an actual meter reading, it is compared with the estimate and adjustments are made as needed.
Domestic Animal Policy
If the customer has a protective dog or pet that is in the same area as the electric meter, EEA requests the area be protected with fencing or by leashing the pet. Please help our employees do their jobs safely. Cayenne pepper spray is issued to EEA employees for personal safety and protection.
Meter Tampering
Theft of electricity is a violation of Colorado and Utah State Law and persons found tampering with their electric meter will be assessed a basic $250 fee plus usage and other charges as applicable. Tampering is a prosecutable offense.
Payment Options - EEA offers several options to make paying your electric account more convenient. If you can't find what you're looking for here, please contact our Customer Service Representatives at 970-565-4444.
Online Bill Pay - EEA provides online account access through SmartHub. You can access SmartHub online or with an app available at your preferred app store. SmartHub allows you to pay on your account online using either a  debit credit card or an e-check. Once registered you will be able to schedule payments, view your payment and usage history, opt for a paperless billing setting, and configure notification settings. To register for or log on to SmartHub click here. If you would like to make a onetime online payment and do not have a SmartHub account, you can do so at EEA's PayNow site.
Phone - Credit card and e-check payments can be made using our automated phone system. Simply call our payment number (844) 937-1658 and follow the menu. You will need the phone number associated with your account or your account number. The first time you call and register you will need the last 4 digits of your SSN for verification. Once verified you will create a 4 digit pin number to use for future payments.
Mail - A postage paid, pre-addressed return envelope is enclosed with the bill for the customer's convenience. Payments sent through the mail should be made by check money order or VISA, Discover, or MasterCard credit cards. Return the bill stub with the payment to insure proper credit to the account. Do not send cash in the mail. Post-dated checks are not accepted and will be returned.
Kiosk - Bills may be paid anytime using cash or a debit or credit card at the kiosk located in the lobby of EEA's Cortez Office. It is available 24/7/365.
In Person - Bills may be paid in person by cash, check, money order or VISA , Discover, or MasterCard credit cards at the office in Cortez. Office hours are listed at the bottom of this page. A night deposit box is available for use at any time.
Automatic Draft Payment - This program allows you to pay your electric bill electronically. If you participate, your bank will automatically withdraw the payment amount from your bank account on the power bill due date. It's that simple -- no hassles, no special trips, no worries about payments arriving on time through the mail. Sign up through your SmartHub account or call us at (970) 565-4444 and speak with one of the Customer Service Representatives.
Budget Billing - A Budget Billing Plan is available to residential customers and small commercial accounts. Under this one year plan, customers pay equal monthly payments instead of paying higher bills part of the year and lower bills at other times. Any miscellaneous charges will be included in the balance due. Monthly payments are calculated based on one-tenth (1/10) of the electric energy used during the previous twelve month period. 
Having accurate contact information is important. Occasionally, EEA will contact you regarding a planned outage in your area or to notify you of important updates or events. Your phone number is used to locate your account when you use our automated outage reporting system. Please help us keep you informed by updating your contact information. EEA does not share account information with outside third parties. You can update your contact information as well as your notification preferences using your SmartHub Account, or you can call our main number at 970-565-4444. 
If you or a member of your family uses life support, contact our headquarters at 801 N. Broadway, Cortez, Colorado, at 970-565-4444 or 800-709-3726 to be added to our "critical care" list of members on life support equipment. View our Life Support Program brochure.